WINNERS: NASC Health and Safety Award
We are delighted to announce that Malvern Scaffolding was awarded the prestigious NASC Health & Safety Award (1-66 Employees) at this year's NASC AGM in Park Lane, London.
The Award is presented every two years, with the judges examining Health and Safety Culture across a wide range of competencies including 'how directors and senior management have taken an active and leading role in promoting health and safety in their organisation'.
Given that the NASC is the collective voice of the best firms in the industry, to be judged as the best of the best is a great testament to Malvern Scaffolding's dedication to keeping everyone Healthy and Safe.
Following the award presentation Steve Fellows (Managing Director) commented to ScaffMag:
"We are very proud as a business to have received this award. Malvern Scaffolding continues to grow and one of our core values is to focus on the health, safety and wellbeing of our employees. We would like to thank all of our workforce, as this award would not have been possible without their commitment to a safe workplace.''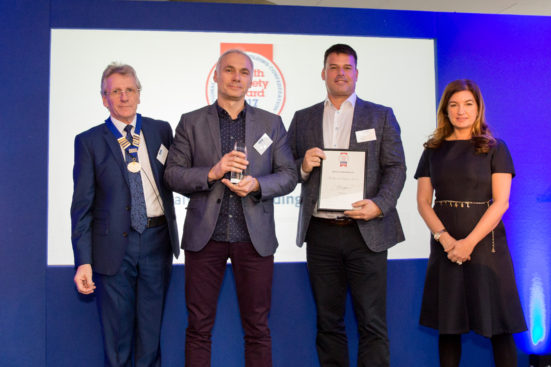 Jon Stone (Commercial Director) and Steve Fellows (Managing Director) from Malvern Scaffolding Ltd being presented their award by Karren Brady CBE, and Des Moore (NASC President)
National Access & Scaffolding Confederation (NASC)